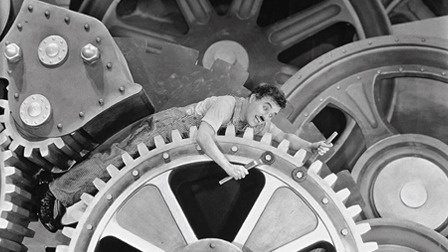 Film #4 in FilmExodus' AFI 100 Movies
Every Thursday FilmExodus does a review/analysis of a different cinematic masterpiece from AFI's 100 Movies 2007 updated list. For a complete overview and how you can participate, click here.
Modern Times is an epic comedy 1936 film starring Charlie Chaplin, that combines the silent era with the emergence of the "talkies", by using a silent format for the majority of the play with sound effects and sparse dialogue used only when technology is being presented.
I watched this movie for the first time in a film class a year ago. While it wasn't my favorite film we watched that semester I have to admire Charlie Chaplin for attempting something like this. It was critical success being one of only a handful of films to achieve a 100% Rotten Tomato score, and to this day is often called Charlie Chaplin's greatest achievement.
In 1989, Modern Times was deemed "culturally significant" by the Library of Congress and selected for preservation in the United States National Film Registry.
My favorite scene has to be the factory scene where "The Little Tramp" (Chaplin's most famous role) is trying to keep up with the conveyor belt. Its just comedy gold!
If you are interested in diving deeper into Modern Times, I have posted a few articles below. They include Roger Ebert's review, an articles on analyzing and filming the movie. Enjoy!
Roger Ebert Review
http://www.rogerebert.com/r…
Chaplin: Analysis of Modern Times
http://www.the-philosophy.c…
Charlie Chaplin: Filming Modern Times
http://www.charliechaplin.c…