Welcome Exiles to this week's  What's On The Grill?, the weekly mini-review corner where we get to blast about whatever we've caught recently, feasted on with our eyes as some say.
This week on the grill: Some deep sea fun, a sports rom-drama, a little trashy horror and a whole lot of Mafia problems. Enjoy!
---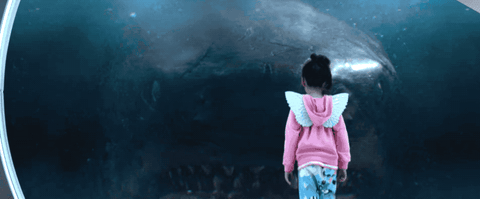 The Meg (2018)
"After escaping an attack by what he claims was a 70-foot shark, Jonas Taylor must confront his fears to save those trapped in a sunken submersible."
3/5- Just a silly popcorn flick. Fun enough but nothing special. Needed about 20 minutes cut from the run time and could have definitely used more gore. Beach scene could have been amazing.
---
Love and Basketball (2000)
"Monica and Quincy love and play basketball together through many life challenges from childhood to adulthood."
4/5- Solid sports and love story. Well acted and a story most can relate to. Refreshing that this type of film addressed gender roles more than the cliche racial tropes. It treated Monica's career just as important as Quincy's. Great soundtrack as well.
---
31 (2016)
"Five carnival workers are kidnapped and held hostage in an abandoned, Hell-like compound where they are forced to participate in a violent game, the goal of which is to survive twelve hours against a gang of sadistic clowns."
2.5/5- Typical Rob Zombie style and violence but with lazy dialogue and nothing really special. Could have done more with the assortment of characters to make them more unique. Doomhead was fun and the only somewhat memorable thing from this.
---
TV Watched-
The Soprano's– Powered through season 5 and 6 to finish the series finale. The Soprano's is truly one of the best TV series of all time. Makes you want to slick back your hair, throw on a wife beater, smoke a cigar and crack some heads! Some great characters that were well acted. Sex, violence, dark humor, solid directing and at times stellar story telling. Twist and turns kept me on the edge of my seat but even the predictable was well told at times. James Gandolfini's iconic portrayal of main character, Tony Soprano, was simply fantastic. How he went from a lovable, goofy teddy bear to hot head tough guy to down right sleazeball was incredible. I also didn't mind the ending as it was left open ended as much of the storytelling had been throughout the series and was up to our interpretations.
However, I did have a few problems with show as well that kept it from being even better than it could been and solid from beginning to end. Sometimes binging a show in a short period of time can be great but sometimes it can be a negative. This time it was the latter for me. Watching back to back episodes made me feel like I was in a repetitive loop of the same arguments and respect or lack thereof being shown, and fights and goomahs and etc. Season 6 was a drag and should have been condensed to less episodes or better story lines. The Vito and AJ ( don't get me started on AJ. Sheesh) arcs were mind-numbingly annoying and boring.
Last real issue I had was the lack of a strong female character to really care about. All were extremely well acted but every woman was the worst extreme of female stereotypes or weak and powerless or turned into sniveling little girls. Granted it's not like there were any redeemable male characters. Dr. Melfi could have been that person but that was taken away with the ultimate power action of a certain event taking place and then seemingly being an after thought. Meadow ended on a high note but was turned into a the typical sniveling "nag" when she was a focal point with Fin. Adriana, although likable and tragic, fell into the typical abusive trapped female role. Carmella, I mean come on nothing needs to be explained here. Janice, Livia, all of Tony's goomahs (except maybe the one legged Russian), all the wives. Oy vey.
Ultimately, by the end I didn't really care about any of these characters and their fates. Was that the point? To make them so unlikable combined with the ending? I doubt it. As much as I loved about this show it was equally frustrating and with it's issues. Overall it is a great show and a must watch.
My Rating-4.25/5
That's it for another What's On The Grill?, folks!
Tell us about what YOU'VE been watching lately in the comments below! Any great shows that caught you off guard or movies that rocked your world?
Sound off in the comments!