Welcome Exiles to this week's  What's On The Grill?, the weekly mini-review corner where we get to blast about whatever we've caught recently, feasted on with our eyes as some say.
This week on the grill: A visceral revenge ride to hell, more lame Wizarding World, a stoic slasher sequel, a run of the mill 80's nostalgic throwback, an action-thriller fun ride and one of the best performances of the year.
Mandy (2018)
"The enchanted lives of a couple in a secluded forest are brutally shattered by a nightmarish hippie cult and their demon-biker henchmen, propelling a man into a spiraling, surreal rampage of vengeance."
4/5- Crazy eyed Cage is the best kind of Cage. Mandy is basically two movie with the first hour being a descent into hell and the second being a bloody revenge flick. Stylish and a heavy metal like experience makes this one of the more interesting horror films of the year.
---
Harry Potter and the Deathly Hallows Part 1 (2010)
"As Harry races against time and evil to destroy the Horcruxes, he uncovers the existence of three most powerful objects in the wizarding world: the Deathly Hallows."
2.5/5- Only two things of interest to me in this film, the pic above, which was beautifully shot btw,  and the return of Dolores. That's about it. More of my thoughts are on the previous Everything and Nothing thread if you want to read them there.
---
Puppies Crash Christmas
omg/5- Just fun and adorable 30 minute Christmas party type background video with puppies just destroying everything in sight and playing with each other. It's on HULU if anyone is interested.
---
Maniac Cop 2 (1990)
"A supernatural, maniac killer cop teams up with a Times Square serial killer."
3/5- Sleazy and gritty but knows exactly what it is and leans on it. The action scenes are solid since I'm a sucker for practical effects.
---
Summer of 84 (2018)
"After suspecting that their police officer neighbor is a serial killer, a group of teenage friends spend their summer spying on him and gathering evidence, but as they get closer to discovering the truth, things get dangerous."
3/5- This just didn't work for me. It had some solid nostalgia and throwbacks. I felt like it captured the 80's well enough, however, it all hinges on the group of kids to make endeavors like this work. Stand By Me, The Goonies, Stranger Things etc. that Summer of '84 is trying to emulate but just doesn't connect. The kids are bland and not engaging. Ending was intense although I think they could have gone further with it. Worth a watch if you enjoy these types of films though.
---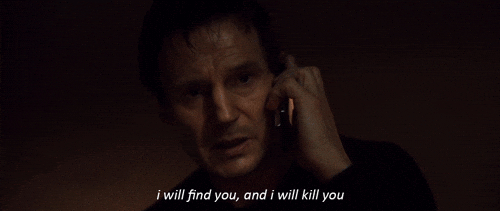 Taken (2008)
"A retired CIA agent travels across Europe and relies on his old skills to save his estranged daughter, who has been kidnapped while on a trip to Paris."
4.25/5- Liam Neeson throat chopping all of England is still as entertaining as the first watch. A generic action film with an aging star that shouldn't have worked but just kicks ass. Simply non-stop once the action begins till the climax. also a good watch to show your kids why you should listen to your damn father!
---
First Reformed (2017)
"A minister of a small congregation in upstate New York grapples with mounting despair brought on by tragedy, worldly concerns and a tormented past."
4.5/5- Poses some interesting questions from many different angles, however, this is Ethan Hawke's world and we are just living in it. The bubbling rage brewing under his skin while trying to remain a "Man of God" in a world he doesn't recognize helps carry the entire weight of this movie on Ethan's shoulders. Ethan Hawke is overlooked and underrated as an actor by myself included. It's not till I watch one of his movies that I'm reminded how good he is. A must see in my book.
---
TV Watched-
The Rookie– Season 1 Ep 8 Time of Death-The best episode of the show so far with Fillion's character being involved in his first shooting kill. I think they did a good job of showing the process after an event like this happens but they ruined by having to go to being like a soap opera. The episode should have ended about a minute or two earlier.
Eli Roth's History of Horror–
Slasher's part 1 and 2– In depth and fun look into the beginning of the slasher genre and what made it so appealing in the late 70's and early 80's through the current "gore porn".
The Demons Inside- A look at possession movie with one of the best looks at the movie Get Out as well.
That's it for another What's On The Grill?, folks!
Tell us about what YOU'VE been watching lately in the comments below! Any great shows that caught you off guard or movies that rocked your world?
Sound off in the comments!