Welcome Exiles to this week's  What's On The Grill?, the weekly mini-review corner where we get to blast about whatever we've caught recently, feasted on with our eyes as some say.
This week on the grill: Well it's almost the greatest time of the year and that's fall! Cooler weather, Halloween, Turkey day and football!!! Before the season starts we always like to get pumped by watching some of our favorite football movies. Enjoy!
---
The Replacements (2000)
"During a pro football strike, the owners hire substitute players."
3.25/5- This is just a fun football comedy. If you just accept it as that you can enjoy it more. The cast of characters are fun and they do a solid job of giving each one their moment. Gene Hackman is always solid as the hard nosed coach. Decent football action with some of the best cheerleaders from a sports movie.
---
The Program (1993)
"Several players from different backgrounds try to cope with the pressures of playing football at a major university. Each deals with the pressure differently, some turn to drinking, others to drugs, and some to studying."
3.75/5- One of my favorite sports movies and a yearly watch before the season starts. I love college football and The Program does a really good job of capturing the pressure of a big time school for coaches and student-athletes. Some of the best football action you will see with memorable characters such as jacked up steroid using Lattimer, freshman phenom running back Darnell Jefferson and one of the all time best trash talking middle linebacker Alvin Mack. I enjoy the scaled back aspect of the story of just trying to make it through the year as opposed to winning a championship or going from worst to first type stories we usually get. This is one of the few movies I would enjoy a remake or at least an updated version.
---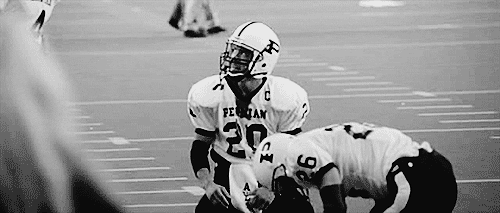 Friday Night Lights (2004)
"Based on H.G. Bissinger's book, which profiled the economically depressed town of Odessa, Texas and their heroic high school football team, The Permian High Panthers."
4/5- Now this hits home with me as I grew up in the culture of the Texas football religion. I played football as a kid through my senior year in one of the most gorgeous settings there is and that is small town football under Friday night lights. Haven't missed too many since. This is one of the closest representations there is of high school football in Texas, not to this extreme of course, but pretty close. FNL is a loose telling of actual events during the 1988 season and is extremely well done. Solid performances from all involved with a standout performance from Billy Bob Thornton as the head coach. More drama than action but both are fantastic here. This is a football movie I would recommend to people to non-sports fans because of the story told and the performances given. Booby Miles story will just break your heart. Also highly recommend the book the film is based on of the same name as it is an excellent read. The writer, Bissinger, actually moved to Odessa, Tx during 1988 in order to follow the team, interact with the community and the players families.
---
Necessary Roughness
Due to NCAA sanctions, the Texas State University Fightin' Armadillos must form a football team from their actual student body, with no scholarships to help, to play their football schedule."
3/5- Just a silly and predictable football movie. Everything is just ok with a few entertaining moments. The football action is sub par in this one. Worth a watch. Best scene is when the team scrimmages a prison team with some great cameos for sports nuts.
---
TV Watch–
Wolf Creek– I wasn't that big of a fan of the movie but Mick Taylor is an interesting killer and the series isn't half bad through 3 episodes.
South Park- Cartman's Silly Hate Crime, Jared Has Aides, Asspen
---
From the 'tubes–
That's it for another What's On The Grill?, folks!
Tell us about what YOU'VE been watching lately in the comments below! Any great shows that caught you off guard or movies that rocked your world?
Sound off in the comments!