Welcome Exiles to this week's  What's On The Grill?, the weekly mini-review corner where we get to blast about whatever we've caught recently, feasted on with our eyes as some say.
This week on the grill: With Glass (2019) coming out this weekend, I decided to rewatch Unbreakable (2000) and Split (2017) to get ready for it. I'm pretty excited for this third installment from M. Night as the previous two are some of my all-time favorites.
---
His Girl Friday (1940)
"A newspaper editor uses every trick in the book to keep his ace reporter ex-wife from remarrying."
So one of my New Years resolutions for movies was to try and watch more classics. I just couldn't with this one. I was so annoyed of the banter in the first 30 minutes that I lost all interest and just could not finish. I get that the back and forth and stepping all over each others lines are supposed to be the endearing part of this "battle of the sexes" but it was just so irritating. Sorry I tried. 
---
So I Married an Axe Murderer (1993)
"A San Francisco poet who fears commitment suspects his girlfriend may have a knack for killing off her significant others."
3.25/5- I simply enjoy this movie. Classic Mike Myers playing multiple roles in this somewhat spoof on serial killer movies. Has some solid chuckles and decent moments of tension. 
---
Unbreakable (2000)
"A man learns something extraordinary about himself after a devastating accident."
4.25/5- One of my favorite and easily one of the best realistic based super hero movies there is. One thing that hit me with this re-watch is how majority of the time characters don't speak above monotone voices, even whispers at times.
---
Split (2016)
"Three girls are kidnapped by a man with a diagnosed 23 distinct personalities. They must try to escape before the apparent emergence of a frightful new 24th."
4.5/5- McAvoy delivers one of my favorite performances of all-time here. After numerous watches, his ability to embody each individual personality still astonishes me. Hedwig cracks me up and freaks me out each time he is on screen. Can't wait for Glass this weekend.
---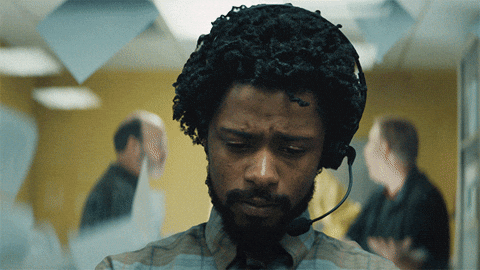 Sorry to Bother You (2018)
"In an alternate present-day version of Oakland, telemarketer Cassius Green discovers a magical key to professional success, propelling him into a universe of greed."
2.5/5- This just didn't resonate with me. No laughs here, I get what it's trying to say and blah blah but it just wasn't entertaining to me. Extremely tough to finish. And I'm officially over Tessa Thompson. 
---
Raw (2016)
"An innocent teenager, studying to be a vet, develops a craving for human flesh."
3/5- People were grossed out by this? Maybe I'm just desensitized but nothing here bothered me other than how much I didn't care for this film.  Everything was there but I don't think it packed enough punch to be regarded as memorable as some claim it to be. Don't get me wrong, I think director Julia Ducournau is extremely talented here in her debut film. I'm looking forward to what she contributes to the future of horror.
---
TV Watched-
The Good Doctor- S2, EP11- Quarantine Part 2
They went full blown E.R. here which I didn't care for. I'd rather them focus more on the drama and not the melodrama.
The Rookie- S1, EP9- Standoff
This is losing me. I was expecting a more story driven drama about Nathan Fillion's character and not a improbable Michael Bay style action shootout on the regular. I miss The Shield.
That's it for another What's On The Grill?, folks!
Tell us about what YOU'VE been watching lately in the comments below! Any great shows that caught you off guard or movies that rocked your world?
Sound off in the comments!